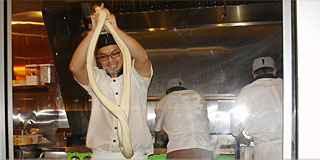 At Everyday Noodles in Squirrel Hill, meals come with a show.

Tables are positioned so diners can watch the action behind a plate glass window, where a cook transforms a muscle of dough into noodles.

Mike Chen and his son Allen, owner of Tamari in Lawrenceville and Warrendale, have carved a niche by opening accessible Asian restaurants with menus that court fusion cuisine and offer lively dining rooms for cocktail drinking and people watching...